If you're both a knitter and an Instagram follower you probably already know about Fair Isle Friday or #fif as it's hashtagged. It's quite fun to search a hashtag such as #fif and see all of the great colorwork that's being knit across the globe. Knitters are besotted with colorwork and I'm no different. Yesterday though I didn't get a chance to take a progress photo of my Scatness Tunic. Let's just pretend it's Friday – okay?
The Scatness Tunic, like many of Kate Davies designs, has tons of little details. I'm halfway through the colorwork yoke and should finish that section this weekend. Then a few more rounds of solid with decreases. But – oh – I'm far from finished! There is more corrugated ribbing to knit, and steeking, and then more corrugated ribbing, and a whole lot of i-cord to come. All of that and I'm still enjoying this project!
With everything bunched up on the needle it's hard to see below that I've knit a sequence of Hispaniola (mahogany brown), Vintage (wine), Spring Valley VFD (red), Burnt Earth (orange) with Extra Virgin (olive green) as my high contrast color. The contrast of the green against the reds once it's off the needles will show up nicely.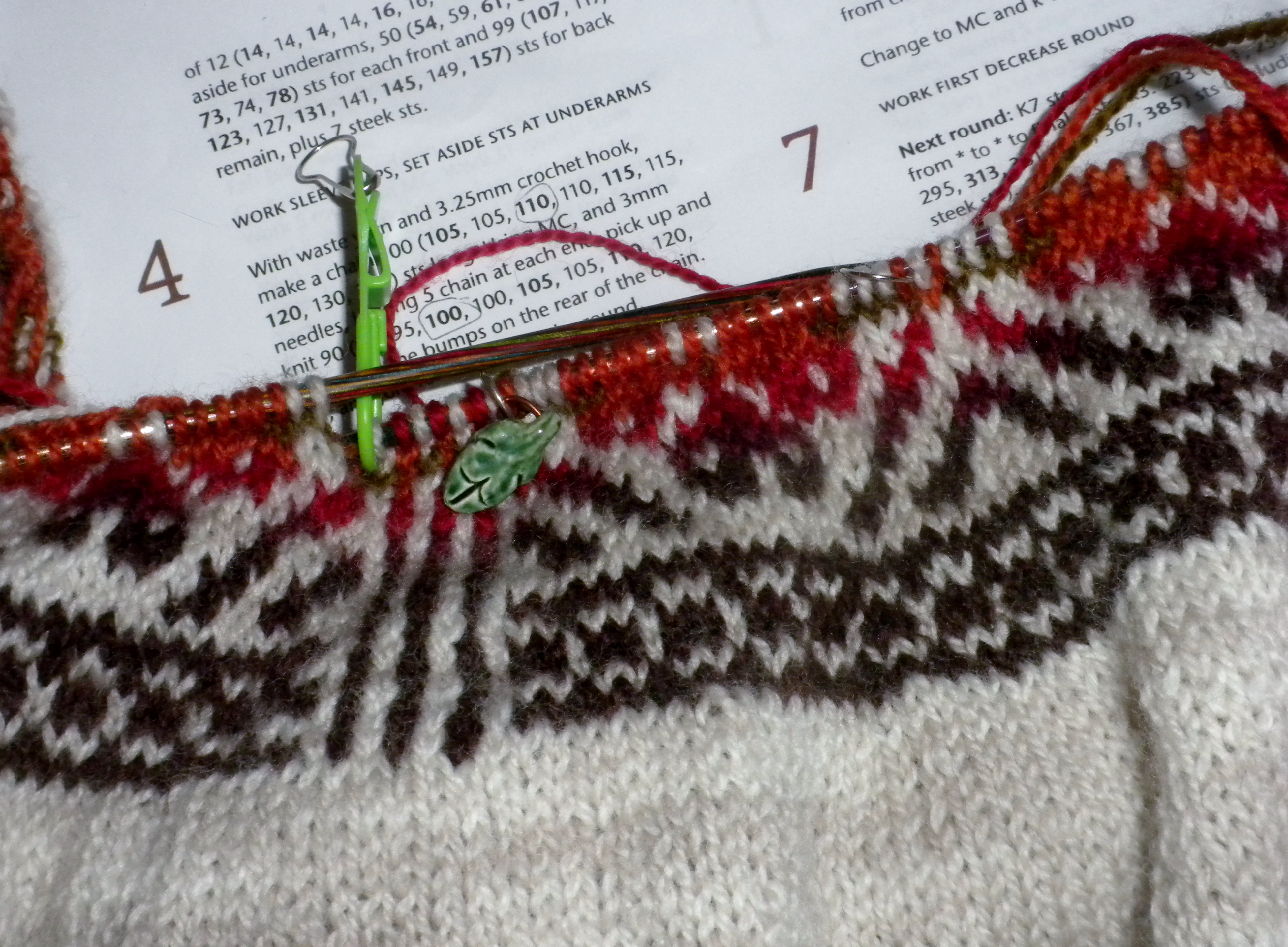 Something new for Fridays on both Instagram and Twitter is Field Notes Friday #fieldnotesfriday where nature lovers and naturalists post notes, photos and drawings about what is happening in their world.
It's been a few years since I've kept a field notes journal but I thoroughly enjoyed doing it when we were farming. The act of keeping the notes made me pay more attention to the wider ranges of our farm instead of just focusing on the weeding and harvesting. It feels good to be keeping one again.
Here are a few photos I took yesterday. I was working in the studio twisting and labeling yarn. The weather has been warm for several days and the ladybugs (sometimes called ladybirds) had come out of their slumber and were gathering around the light fixture. I had the door to the studio open wide so I expect many of them flew out to enjoy a bit of fresh air.
I discovered this sweet little butterfly on the porch of my studio as I was leaving. It's an Olive Juniper Hairstreak, one of the very small butterflies about the size of a Sulphur. These wee lepidoptera like cedar and evergreen trees and there just happens to be a cedar along the fence beside my studio.
We have a few more days of preparation and then we head off for a run of three back-to-back fiber shows. First is DFW Fiber Fest in Irving, Texas. This is a big and very exciting show! We had a great time last year and can't wait to return! The headline teacher and speaker is Stephanie Pearl McPhee the Yarn Harlot.
The following weekend is Knitting in the Heartland, a small but sweet show in Kansas. If you're a fan of knitting cables or eager to learn more about knitting cables you can learn from no better teacher than Fiona Ellis. Her designs are ripe with texture, standard, Celtic and morphing cables are abundant.
And the third show we will be at while on the road in March/April is Stitches South! The Stitches Expo events are exciting and jam packed with great teachers, fun events, and a huge marketplace! South, as it's affectionately called, takes place in Atlanta, Georgia. We have several garments in the Fashion Show on Friday night and as always will have designs on display in the booth.
We'll post a few photos on Instagram, the blog and our Lost City Knits Facebook feed while we're attending the early Spring shows. Follow us on any or all of the social media avenues if you desire. If you attend one of the shows be sure to stop by the Lost City Knits booth and say hello!